Yanhui Kuang: Chinese Watercolor Painting
June 29 – August 30, 2022
About the Artist:
Yanhui enjoys Chinese watercolor painting and has developed an eclectic style all her own of the ancient arts fused with contemporary themes. Many of her water color pieces are ink on Xuan paper which has been used for centuries in China, Japan, Korea, and Vietnam for writing, artwork, and architecture. Ms. Kuang's pieces include portraits, flora and landscapes, abstract multi-media, and large-scale works. If you look closely there are often images and symbolisms creatively "hidden" within her pieces.
She has served as a volunteer with the Chinese Club at Leonardtown High School for many years where she has dedicated much time and energy to assist with the production of the annual Chinese New Year celebrations. Every January the club and language students, as led by faculty member Si Chen along with support from parent and community volunteers, provide entertainment to well over 200 guests.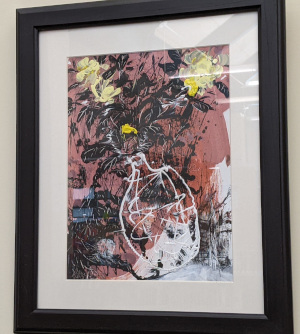 Yanhui has also volunteered to provide assistance to Chinese children and their adoptive families by providing support to accelerate their studies and to help them adapt to their new environment. She has assisted international students to communicate with their host families in terms of language, culture, and customs and also teaches Chinese and oriental traditional culture and art forms.
Visit Yanhui Kuang's Facebook page.


Are you an artist and wish you had a place to share your artwork with others? Since the Lexington Park Library Art Gallery was created by artist Candy Cummings in 2005, many amateur, student, and professional artists have displayed their artwork. Contact the St. Mary's County Arts Council at info@smcart.org or 240-309-4061 if interested in displaying your work. The Art Gallery is funded by the St. Mary's County Arts Council.