Saturday, October 8, 11:30 a.m. – 4 p.m.
Lexington Park Library
We are excited to announce that LexiCon 2022 will be live and in person this year! Is your team ready to win our Trivia Deathmatch? Get your costumes ready for the Cosplay contest! Lexicon is an event for people of all ages who love comic books, science fiction, fantasy, and superheroes! Join us for trivia, an obstacle course for kids, a cosplay contest, workshops, and prizes! See pictures from previous years.
The Day's Events
LexiCon Youth Ninja Warrior
Fun for the kiddos and the young at heart! Participate in a series of obstacles designed to test your abilities. Do you think you have what it takes?

Magic: The Gathering workshop & gaming
Learn the basics of Magic: The Gathering, including the different types of decks, rules, characters, stories, and more!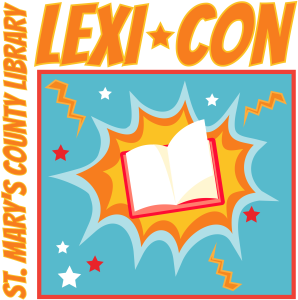 Trivia Deathmatch
Fun for the whole family!

Kid's Fun – crafts, photo booth with greenscreen, coloring

Mini Cosplay Workshop
Learn basic cosplay tips and how to brand yourself as an amateur coplayer – a true enthusiast. Learn about using social media, choosing your brand name, getting professional photos, attending cons, networking, cosplay groups, and more!

Cosplay Contest
Come dressed as your favorite movie, TV show, anime, or comic book character and participate in our cosplay contest! Age categories include ages 10 and under, ages 11-17, and 18 and up. Please review the rules for the cosplay contest before deciding to compete.
Register in advance for the cosplay contest or register on October 8 at the event.

Local Artists
Quarky Cadet
Naomi Cole

Vendors and Guests