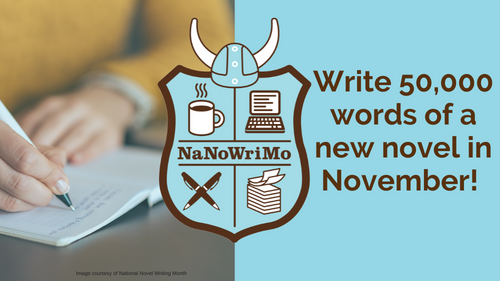 Check out Library resources for writing help!
NaNoWriMo Come Write In Events
Happy National Novel Writing Month, otherwise known as NaNoWriMo! Need a change of scenery while you work? Come *Write* In! Arrive any time during the event and stay for however long you'd like. In the NaNo Lounge you'll find dedicated space to write and workshop your stories with friends. Try to reach that 50,000 word count by the end of the month. Bring your notebook/laptop and join us for some write-ins. Enjoy free Wi-Fi and a collaborative atmosphere.
Leonardtown Library
Tuesdays: November 8, 15, 22, & 29; 5 – 7 p.m.
Lexington Park Library
Wednesdays: November 9, 16, & 30: 5 – 7:30 p.m.
NaNoWriMo Kickoff featuring Ronald Malfi: The Art of Darkness
Wednesday, November 2, 6 p.m.
Lexington Park Library
Register for the NaNoWriMo Kickoff with Ronald Malfi
There is more to the horror genre and dark fiction than death and shock factors. Ronald Malfi will discuss the main elements and themes of this thrilling genre, as well as how they can be included in other works to add a bit of edge or suspense.
Ronald Malfi is the award-winning author of several thrillers and horror novels, including the bestseller Come with Me, published by Titan Books in 2021, of which Publishers Weekly said, "Malfi impresses in this taut, supernaturally tinged mystery…and sticks the landing with a powerful denouement. There's plenty here to enjoy." The book has been in development for a television series, as was his 2017 novel, Bone White. His most recent horror novel, Black Mouth, deals with the consequences of childhood trauma against a backdrop of supernaturally-tinged dark magic.