The One Maryland One Book 2022 theme is "New Beginnings." This year's selection,
What's Mine and Yours
by Naima Coster, is a multigenerational saga featuring two North Carolina families. They collide in ways that neither is prepared for when Black students from the east side of the county are integrated into the predominantly white schools on the west side. Readers will follow these families over decades as they break apart and come back together.
Find What's Mine and Yours in print and digital formats in the catalog
.
OMOB Events
Author Tour with Naima Coster
Tuesday, October 4, 11 a.m. – 1 p.m.
College of Southern Maryland, La Plata Campus
Fine Arts Building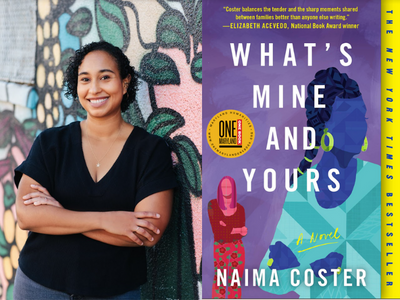 Join us for an intimate discussion with One Maryland One Book Author, Naima Coster, Author of What's Mine and Yours. This program will consist of 30-40 minutes of interview-style discussion with Ashley Teagle, CEO of the Southern Maryland Regional Library Association (SMRLA), followed by 15-20 minutes of audience Q&A. Naima Coster will sign books for approximately an hour after she speaks. This event is open to the public. Registration is not required. Non-flash/still photography is permissible at this live event, however, video and audio recording are not permitted.
This event is organized by Maryland Humanities and co-sponsored and co-hosted by One Maryland One Book. Charles County Public Library thanks partners Southern Maryland Regional Library, Calvert Library, St. Mary's County Library and the College of Southern Maryland in their assistance in bringing this event to Charles County.
Book Discussion at Charlotte Hall Library
Monday, November 7, 6 p.m.
Charlotte Hall Library
Register for the book discussion
Join us for a thoughtful discussion of the 2022 One Maryland One Book selection, What's Mine and Yours by Naima Coster.
About One Maryland One Book
When we read a great book, we can't wait to share the experience and talk about it with others. That's one of the joys of reading. In that spirit, Maryland Humanities created One Maryland One Book (OMOB) to bring together diverse people in communities across the state through the shared experience of reading the same book. We invite you to participate in book-centered discussions and related programs at public libraries, high schools, colleges, museums, bookstores, and community and senior centers around the state.
One Maryland One Book is a program of Maryland Humanities