Welcome to Summer Reading 2022!
Summer Reading is for all ages and runs June 18 – August 13, 2022. Complete activities all summer long to earn badges. After earning your first activity badge, you get a free t-shirt (while supplies last), plus, drop a ticket in the prize drawing of your choice. Earn the next three badges for one additional ticket each! Grand prize drawings take place after the end of Summer Reading in August. Download the Beanstack Tracker app for Android or iOS, or visit https://stmalib.beanstack.org to get started!
Download a Summer Reading coloring sheet!
Use Beanstack to Register and Earn Activity Badges
Download 'Beanstack Tracker' from your device's app store, or visit https://stmalib.beanstack.org. If you're using the Beanstack app, search for St. Mary's County Library.
If you have used Beanstack for summer reading or another library program, enter your username/email and password. If you do not already have an account, you'll need to create one.

After entering your information to create the account, complete the reader profile. If you are an adult registering a child, enter your information first (Summer Reading is for you too!)
If you'd like to sign up one or more additional readers, select "Add Another Reader" and enter additional readers' information

For children not yet in school, select 'None (or prefer not to say)'
To participate in Summer Reading 2022 via Beanstack:

Register for Oceans of Possibilities
You've received a registration badge!
Click Activity Badges to see activities you need to complete to earn a badge
On or after June 18, complete and check off 5 activities to earn a badge!
Your first activity badge earns you a Summer Reading T-Shirt (pick up at any of our Library locations, while supplies last)!
Each badge also earns you a virtual ticket that you can enter into one of four raffle options. When you earn a badge, go to the Drawings section to select where you want to place your ticket (To find Drawings in the app, tap the Oceans of Possibilities banner).
Can't Use Beanstack?
Download a list of all the activities . Each time you complete 5 challenges (up to four times), visit or give us a call and let us know! We'll enter your information on our end and enter you into the ticket drawings!
Southern Maryland Library Nights at Regency Furniture Stadium
Presented by Southern Maryland Regional Library Association
Redeem this digital voucher at the box office for games on July 30 and/or August 20.
Call 301-638-9788 for more information.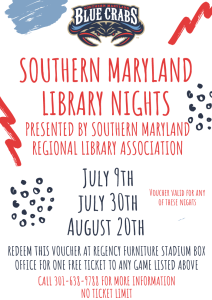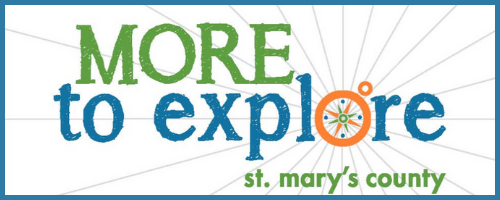 More to Explore
June 17 – September 9, 2022
The "More To Explore" Program encourages all community members to get outside and explore the amazing parks, historic sites and farmers' markets that St. Mary's County has to offer! When you visit a site listed in the challenge, look around for a green "More to Explore" marker. Near each marker you will find a "secret code" (hint: it's usually a fitness vocabulary word). Enter the secret code on Beanstack to log your visit. When you've visited at least 12 sites between June 17 and September 9, 2022, you'll be entered into a grand prize drawing! Can't use Beanstack? Download a PDF of the program . Program brought to you by The Healthy St. Mary's Partnership.