The Commissioners of St. Mary's County invite you to attend a groundbreaking ceremony for the Leonardtown Library and Garvey Senior Activity Center! The groundbreaking will take place Tuesday, May 15 at 9 a.m. Guests are asked to park at the Governmental Center. A shuttle to the build site will be provided. Please RSVP by May 10 to Sarah Miller, sarah.miller@stmarysmd.com, or 301-475-4200 x*1073.
THANK YOU to the Commissioners of St. Mary's County (CSMC) for allocating the funds to build a new library for St. Mary's County. The new Leonardtown Library will be located off of Leonard's Grant Parkway in Leonardtown, right next to the new Duke Elementary School. The building will contain both the new 29,730 square foot Leonardtown Library and the Garvey Senior Activity Center.
Through a competitive grant process, St. Mary's County Library has received $1,591,000 in funds from the Maryland County Library Grant Program to add to the County allocated funds for the new library.
Grimm and Parker (G&P) has been chosen as the architecture firm for the project, and Tuckman-Barbee has been chosen to fulfill the $16.9 million construction contract. Construction should start in late April or early May, and should be completed within 540 days of the start. A ground breaking will be held at the beginning of construction.
Take a virtual tour of the architect's design of the new Leonardtown Library! Updated March 2018.


Video Tour with Audio Description
An exterior rendering of the new library at night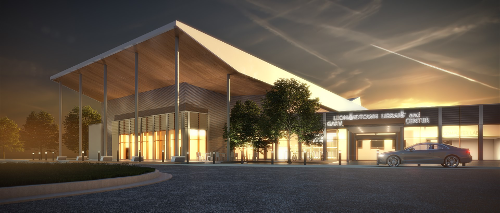 Background information: