The Grand Opening Ribbon Cutting for the new Leonardtown Library scheduled for April 28 has been postponed
We will keep this page updated as we have more information about the opening schedule for the new Library.
The new Leonardtown Library is opening soon!
We've put together a list of FAQs about the transition and the opening of the new Library. Please contact us if you have any additional questions!
Where is the new Leonardtown Library located?
The Library is located at 23630 Hayden Farm Lane, Leonardtown, MD 20650 off of Leonards Grant Parkway, in front of Captain Walter Francis Duke Elementary School.
When will the Library open?
The new Leonardtown Library will open to the public on Tuesday, April 28, 2020 after the 11 a.m. ribbon-cutting ceremony.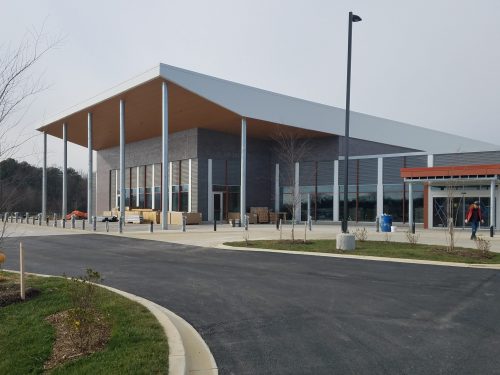 How long will the Library be closed?
The current Leonardtown Library will be closed starting Monday, April 6 so that we can move the collection. The new Library will open April 28.
Where can I return my items while the Library is closed?
Items may be returned to the Lexington Park Library, the Charlotte Hall Library, or any library in Calvert or Charles Counties.
What about my holds?
As of March 9, 2020, you will not be able to place a hold for pickup at the Leonardtown Library. You will be able to request pickup at Lexington Park Library, Charlotte Hall Library, or any library in Calvert or Charles Counties. If you have already placed holds for pickup at Leonardtown Library prior to March 9 and they arrive at Leonardtown Library on or before April 3, you will be able to pick them up at Leonardtown Library. Please keep in mind that the last day the Leonardtown Library will be open will be Saturday, April 4, 9 a.m. – 5 p.m. If you have a hold available for pickup at Leonardtown Library that you have not picked up by 5 p.m. on April 4, you will not be able to pick up the hold until the new Library opens the week of April 28.
You may wish to change your pickup location for existing holds for the duration of this transition period. To do so, login to My Account. Click Hold Requests on the left side of the page. Select the holds you wish to change, then click Change Pickup Location. Select the new pickup location, then click Submit. See screenshots of this process
Please note, you may only change pickup locations for holds with a status of Active or Pending.
When can I reserve a meeting room at the new Library?
The new Library will have two large meeting rooms that can be reserved separately or combined as one larger room. There will also be five study rooms available for reservations. Reservations for the rooms in the new Library will be open to the public on the day of the grand opening, April 28, through our online meeting room reservation system.
Grand Opening Week Events
More events are coming soon – check back regularly!
Grand Opening Ribbon Cutting
Leonardtown Library
Tuesday, April 28, 11 a.m.
Join the Commissioners of St. Mary's County, Maryland State Delegates and Senators, Library staff and board members, and the Governor's wife, Yumi Hogan, for a ribbon cutting ceremony to open the new Leonardtown Library and Garvey Senior Activity Center.
The Art and Craft of Mysteries with Phil Hayward
Leonardtown Library
Wednesday, April 29, 6 – 7:30 p.m.
Registration recommended.
Local author Phil Hayward will discuss the writing of a mystery novel, using his own book, "Deadly Stroke: A Port City Mystery", as a guide. Topics will include where ideas, plot, characters, and atmosphere originate. He hopes attendees will gain a better appreciation of reading not just mysteries but other genres of fiction as well. After living in Alexandria for 30 years, Hayward and his wife, Polly Lange, moved to the Breton Bay community near Leonardtown in 2014. Before turning to fiction he was a staff editor of Air & Space/Smithsonian, Mid-Atlantic Country, and Lodging magazines. He is a member of the Maryland Writers Association.
Kathy MacMillan Presents 'Signs Under the Sea'
Leonardtown Library
Friday, May 1, 2 – 4 p.m.
Author and self-professed language geek, Kathy MacMillan presents Stories By Hand; an interactive storytelling program that teaches basic American Sign Language for all ages. Kathy MacMillan will dive into splashy stories, songs, and fun activities that explore the world of underwater animals through American Sign Language, with Signs Under the Sea! The author will be available to sign books after the program. Seating is limited to 150.
Teen Video Game Tournament
Leonardtown Library
Saturday, May 2, 10 a.m.
Put your skills to the test on our new Switch. Will you be the library champion? Please arrive early for rules and registration.
Magic Show with Thomas Lilly & Beowulf T. Wunderbunny
Leonardtown Library
Saturday, May 2, 10:30 a.m.
Join magician Thomas Lilly and his magic rabbit, Beowulf T. Wunderbunny, for a fun and fantastic show of illusions, jokes, and balloon creations to celebrate the brand new Leonardtown Library! Recommended for preschool, lower and upper elementary, and tweens.
Balloon Twisting Workshop with Thomas Lilly
Leonardtown Library
Saturday, May 2, 1 p.m.
Registration opens April 18
Magician and balloon sculptor Thomas Lilly will teach you how to make amazing balloon animals, balloon hats, and more. Every participant will receive a balloon-twisting starter kit to keep. For ages 10 & up. Registration opens two weeks prior.
Dog Man Party
Lexington Park Library
Saturday, May 2, 10 – 11 a.m.
Registration opens April 18
Celebrate everybody's favorite half dog, half police officer with games and activities inspired by the bestselling graphic novel series! Ages lower to upper elementary. Registration required.
Zumba for All Ages
Leonardtown Library
Saturday, May 2, 2 p.m.
Registration opens April 18
We will have so much fun, we will sweat, and we will remain healthy and strong chugether! It's a dance fitness party that will boost energy and makes you feel incredible at the end of every class! No dance experience or rhythm required! Move at your own pace; just MOVE your BODY and show-off your solo moves!
Wonderland Tea Party
Charlotte Hall Library
Saturday, May 2, 2 – 3:30 p.m.
Registration opens April 18
Don't be late for this very important date! Join us for a party inspired by "Alice In Wonderland!" Ages upper elementary-tween. Registration required.
Meet Local Author Susan Lantz Simpson
Leonardtown Library
Saturday, May 9, 10 a.m. – 12 noon
Registration required
Susan Lantz Simpson, author of 8 novels set in Southern Maryland's Amish community (including 3 in the Plainly Maryland series) will join us to talk about her inspirational stories of love and faith.