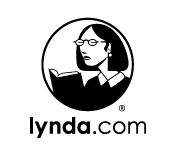 We are pleased to offer our library cardholders access to lynda.com's library of instructional videos. Normally, using lynda.com requires a paid subscription, but as a St. Mary's County Library cardholder you can access Lynda.com content from any computer with an Internet connection simply by visiting the library's lynda.com site and entering your library card number and password/PIN (usually the last four digits of your telephone number).
You can only access lynda through the library's lynda.com login page, and not by directly visiting the lynda.com homepage. Please bookmark accordingly.
Your library lynda.com account can also be used with the lynda.com desktop or mobile app. Download the lynda.com app from your device's app store and follow these instructions to login:

Tap "Already a member?" on a mobile device or find the key symbol in the upper right to login to the desktop app
Select the "Organization" tab in the upper right
Scroll down to "Web Portal" and input cosmos.somd.lib.md.us
Enter your library card number and PIN (usually the last four digits of your telephone number)
You will be automatically directed back to the app where you can access courses

Desktop and mobile app users can download courses while on wi-fi for later offline viewing. See lynda.com's support article for downloading for offline viewing

To access downloaded content, members must be logged in to their Lynda.com account. The app login is valid for 30 days, after which time the app will prompt members to re-authenticate their account credentials by signing in again (while connected to the internet).
Desktop app users may see a "1-Click Login" connect button. This is to ensure that you are logged into Lynda.com in the browser. Click connect to continue to your downloaded courses.
Once you have logged into lynda.com with your library barcode and PIN you must create a personalized lynda.com account by entering your name and e-mail address. This account can help you manage your course history, playlists, bookmarks, and Certificates of Completion. Many courses also feature exercise files, so if you're watching a tutorial about Microsoft Excel you can follow the activity with downloadable, pre-populated Excel spreadsheet files.
What is lynda.com?
lynda.com is an online learning site that hosts a constantly growing library of over 3,000 courses that include over 130,000 videos. Courses cover a variety of topics (including business, design, web development, and multimedia skills) and software (Microsoft Office, Adobe Creative Suite and open source applications) that can help you pursue personal and professional goals. These courses are delivered by expert instructors and feature searchable transcripts that make it easy to find quick answers to questions. They also feature Certificates of Completion that can be uploaded to a LinkedIn profile.