We are currently unable to accept new volunteers and do not know when we may be able to do so
Your Library…A Great Place to Volunteer!
We are delighted that you are interested in volunteering at your library. Volunteer opportunities exist for both adults and teens. Teens must be 13 years old and older, or in the 8th grade.  Parental consent is required for teens under 16. Students needing community service hours are welcome.
We assign your volunteer time around your schedule and the needs of the library. We have volunteers who work a few hours a month, a couple of times a month or every week, depending on their schedules. We appreciate every moment of service you can provide.
Volunteers perform a variety of tasks which are important to the operation of the library. These tasks might include:
Putting items in order on the shelves and straightening shelves
Searching for missing/misfiled items on shelves
Pulling books to send to other libraries
Cleaning and repairing items
Making copies, folding brochures, performing light clerical duties
Preparing materials for children's programs
Assisting with programs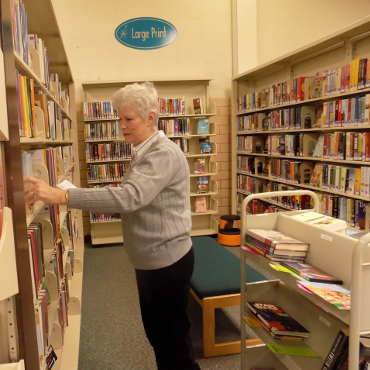 If interested in volunteering at one of our branches, please fill out the online application below or download the volunteer application  and return it to the branch of your choice. We will contact you to schedule an interview. If more information is needed, please contact one of the following coordinators:
Leonardtown Library
Sue Clifton: 301-475-2846 or sclifton@stmalib.org
Charlotte Hall Library
Jeanette Edward: 301-884-2211 or jedward@stmalib.org
Lexington Park Library
Becky White: 301-863-8188 or bwhite@stmalib.org
By submitting the application below, you are agreeing to the following:
I understand that volunteering requires a time commitment and I will work the agreed hours as scheduled. I am willing to commit to volunteer for at least 2 months. If I must miss my scheduled volunteer time, I will notify the library 24 hours prior to my scheduled time.
I understand that this volunteer assignment is not to be considered employment by the library, that no wages will be paid, and that library is not to be held responsible in the case of any accident or injury resulting from the volunteer duties.