Your Library…A Great Place to Volunteer!
We are delighted that you are interested in volunteering at your Library! Limited volunteer opportunities exist for both adults and teens. Teen volunteers are required to be age 14 years or older. Parental consent is required for teens under 16. Students needing community service hours are welcome to submit an application. We assign your volunteer time around your schedule and the needs of the Library. We have volunteers who work a few hours a month, a couple of times a month, or every week, depending on their schedules. We appreciate every moment of service you can provide.
Current Volunteer Opportunities
Charlotte Hall Library is now accepting applications for adult and teen volunteers.
Lexington Park Library is now accepting applications for adult volunteers only.
Leonardtown Library is not accepting volunteer applications.
What do volunteers do at the Library?
 
Volunteers perform a variety of tasks which are important to the operation of the Library. These tasks might include:
Maintenance Support

Dusting
Cleaning (Toys, DVDs, Books, etc.)
Checking DVDs for slips and damage

Collection Support

Check shelves are in order, with items pulled for condition if needed
Weeding (Pulling items as directed, crossing out labels, and boxing items)
Pulling items for/from the hold list
Delivery check-in
Event Support

Event preparation
Event set-up
Assisting with staffing event tables
Assist with events under the direction of a staff member

Service Support

Simple tech (printing, copying, faxing)
AV support in meeting rooms (training required)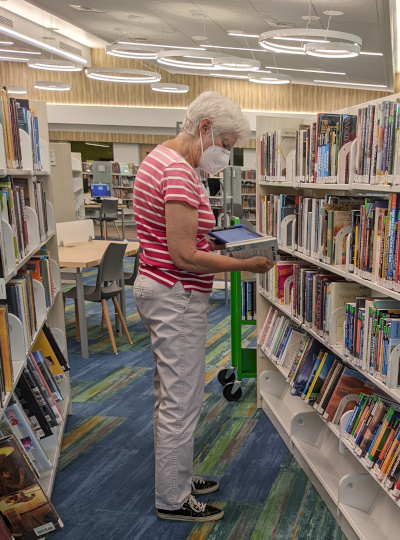 Please note, volunteers will not be asked to
Run events
Do storytime
Perform reference work
Answer phones
Check out materials
Provide in-depth tech support
Use the 3D printers
Perform outreach
Submit A Volunteer Application
By submitting the application below, you are agreeing to the following:
I understand that volunteering requires a time commitment and I will work the agreed hours as scheduled. I am willing to commit to volunteer for at least 2 months. If I must miss my scheduled volunteer time, I will notify the Library 24 hours prior to my scheduled time.
I understand that this volunteer assignment is not to be considered employment by the Library, that no wages will be paid, and that Library is not to be held responsible in the case of any accident or injury resulting from the volunteer duties.