St. Mary's County Library is pleased to offer curbside pick up by appointment at all three library locations!
Appointments may be made Monday – Thursday, 1 – 6 p.m.; Friday, 12 – 5 p.m.; and Saturday, 10 a.m. – 5 p.m. Appointments are available for pickup of held items and printing requests.
If your held items are not available yet, please do not make an appointment until you receive notification that they are ready for pickup. Find information about how to submit a printing request. We are not offering 3D printing services for pickup at this time.
Here's how it works:
Place your items on hold online with your library card or contact us for help placing holds. Or, submit a printing request.
Wait to be notified that your hold is available. You will be notified via email, phone, or text, depending on your account preferences (you can change your preferences by logging in to My Account).
When you are notified that your hold is available, or after you've submitted your printing request, schedule a pickup appointment.
Follow the instructions in your confirmation email when you arrive for your appointment. Please wear a mask and DO NOT hand returns to staff! Returns can be placed in exterior book drops before or after your appointment time.
Enjoy your items!
Schedule Your Curbside Pickup Appointment
Please note: Appointments made for Leonardtown Library are for the NEW Leonardtown Library, located at 23630 Hayden Farm Lane. We are no longer located in the old armory building on Hollywood Road.
Curbside Pickup FAQs
Can I return materials to Library staff during my curbside pickup appointment?
Please do not hand returns to staff during your appointment. Returns may be placed in exterior book drops before or after your appointment.
Can I just get some random DVDs, books, etc.?
Yes! When making your appointment, you can select a grab bag and tell us what you'd like. Be very general for grab bags and stick to a max of 20 items (ex. 10 picture books, 5 adult fiction and 5 DVDs). These grab bag items will be randomly selected the day of your appointment and checked out to you. They will be included with any other items you've specifically requested to pick up at your appointment. Take a look and make sure they're a good fit for your and your family's reading and viewing choices. Feel free to drop those you are not interested in back in the book return before you leave.
Do you have tax forms?
All libraries have copies of the 1040 and 1040-SR federal tax forms (no instruction booklets) and the Maryland state tax form booklets. You can pick these up curbside by making an appointment and letting us know in the appointment form which of these form(s) you need. There is no charge for these forms. If you need other forms printed, you'll need to download them from the IRS or Maryland Comptroller website and submit a printing request before scheduling a pickup appointment. Cost for other forms is $0.20 per page. Printing costs will be charged to your Library account when your request is printed. We are not accepting in person payments.
Can I clean my library materials upon receipt or before returning?
Only sanitizing wipes can be used on plastic covers of books and DVD/CD cases. Do not clean with disinfectants as spray can damage covers and pages. Do not put any materials in the microwave oven, as they could catch fire. Do not expose to UV light, place in oven, or leave in car with extreme heat. We are quarantining materials for 72 hours to ensure safety.
Why are my returned materials still showing on my account?
All returned materials are being quarantined for 2 days before being checked in and processed. There are no fees being incurred. Please allow 5 days for your account to clear.
Are you taking book donations?
The Friends of the St. Mary's County Library is now accepting donations
Donations must be dropped off in the black bins outside the rear entrance of 23250 Hollywood Rd in Leonardtown (the old Leonardtown Library).
Donations may be dropped off Mondays, Wednesdays, Fridays, and Saturdays; 10 a.m. – 2 p.m. Please do not leave donations outside of these hours.
Donations cannot be accepted at the Library locations at this time.
Questions? Call (240-561-9828) or email the sorting room!
When You Arrive
Leonardtown Library
If you're picking up at the Leonardtown Library Drive Thru window, please drive, bike, or walk up to the window on the left side of the building.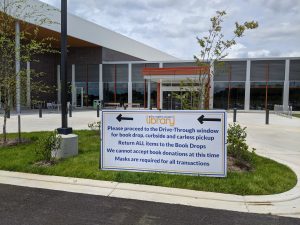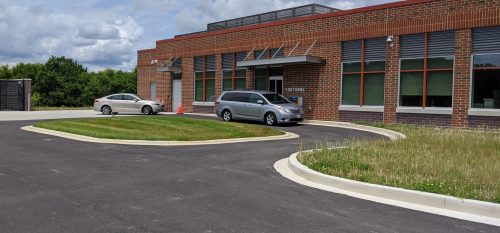 Charlotte Hall Library and Lexington Park Library
If you're picking up at Charlotte Hall or Lexington Park, you have the option to select a drive up or carless appointment. If you select a drive up appointment, you'll be given a spot number. Please look for the sign with your spot number on it and pull in at your appointment time. If someone is already in your spot, please pull into the overflow spot to wait until your spot is available. Once you are in your spot, call the number on the sign. Please open your trunk or a window onto an empty seat where staff may place your items.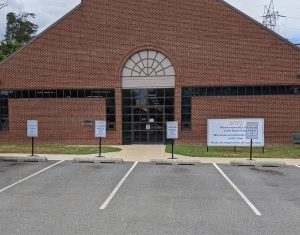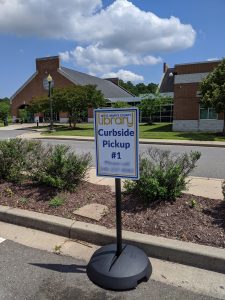 If you select a carless appointment at Charlotte Hall or Lexington Park, approach the table or cart right outside the Library at your appointment time if it is empty. If someone is already waiting there, please wait at least six feet away until they leave. Once at the table/cart, call the number on the sign. When the staff member exits the building with your items, please move away. They will place the items on the table/cart. When they have moved away, you may approach and gather your items.