Computers and Printing
All branches have a number of computers running Windows 7 or 10 with a variety of browsers and software, including Microsoft Office 2013 or 2016. All public computers shut down 10 minutes before the library closes.
Zoomtext or Windows Magnifier Software on all public computers.
Each branch has one workstation that provides assistive technology to citizens of Maryland protected by the Americans with Disabilities Act (ADA). These workstations have electric height-adjustable tables with computers, 27 inch monitors, special keyboards, JAWS® screen reader software, MAGic® screen enlarging software, and an Optelec® CCTV that has Optical Character Reading (OCR) capabilities that will read aloud any print text. Funding for these workstations was provided through a Library Services and Technology Act (LSTA) grant from the Institute of Museum and Library Services (IMLS).
Black and White and Color Laser Printers and Copier

Black & white copies from copier or computer/printer

20¢ per page
Double Sided–40¢ per double sided copy

Color copies from copier or computer/printer

50¢ per page
Double Sided–$1.00 per double sided copy

Mobile Printing Service – Send your print job to the library from anywhere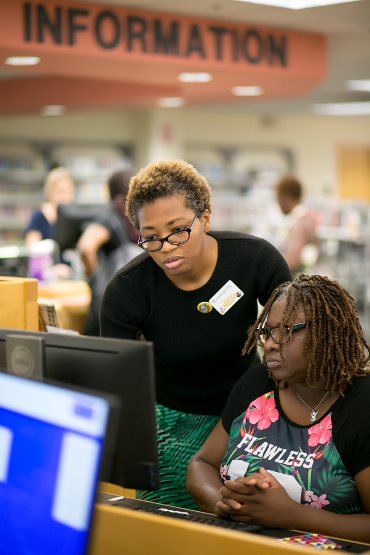 WiFi
Free WiFi is available at all libraries during open hours. WiFi turns off 10 minutes before the library closes.
Computer, Internet, and Technology Policies
Other Technology
Laptops – available for checkout for in-library use at each branch
Scanners – no charge for scanning
Fax Machines

$1 per page
Fax machines are self service. After faxing, bring your transmission verification report to the front desk to pay.