Welcome to our Storytime Room!
Click around our Storytime Room to see all the great videos and activities we've created and curated for you!
You'll find Mindful Storytimes, Pint-Sized Playtime Ideas, Flannel Boards and Teddy Bear Games, and so much more!

Zoom Storytime!
It's storytime, online! Join your children's librarians virtually for fun & learning as we read stories, sing and dance together, and play games each Tuesday and Thursday at 10 a.m. and each Wednesday at 2:30 p.m., September 14 to December 9. Zoom Storytime is designed with ages 2-6 in mind, but kids of all ages (and their grownup caregivers) are welcome! Register once with your email address to receive a Zoom link each Monday morning for the week's storytimes.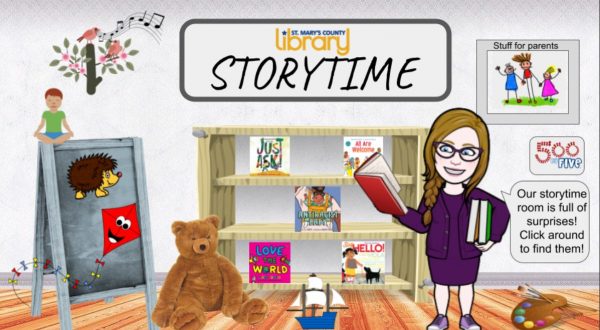 Bee a Friend to the Bees!
Join Miss Sue, Miss Elizabeth, and friends for a 3 part series about our friends the bees! Meet Miss Elizabeth's bees, and join Miss Sue and friends for stories, facts, and crafts. Part II airs July 23; Part III airs August 27.
Part I


Check out our great storytime ideas and videos for kids and families!
Pint-Sized Playtime Ideas
Get fun, new sensory play ideas for babies and toddlers! Demonstrated activities may be messy but will include easily accessible supplies. Watch Pint-Sized Playtime Ideas on YouTube.
Storytime at Home
Discover a convenient, curated list of books and activities to put on a storytime with your child, right in your own home!
December 23, 2020
The Story of Snow (View in PDF format )
January 27, 2021
Dogs (View in PDF format )
February 24, 2021
Who Loves Red? (View in PDF format )
Storytime Shorts
Our librarians have put together some storytime shorts for you – these are short videos of storytime activities like songs, counting games, and more! View the Storytime Shorts playlist on YouTube.
Mindful Storytime
Practicing mindfulness may increase children's ability to focus, self-regulate, and lead a happier life. Join Ms. Erin for a storytime that incorporates simple yoga and mindfulness practices in fun ways. Watch Mindful Storytime on YouTube!
Storytime Extras
Librarians share how parents' and children's activities in storytime and at home can provide both fun and learning!
Storytime Extra #2: Activity Cubes & Calm-Down Cubes

Online Storytime Extra #1: Early Literacy Tips