Storytime at Home
Discover a convenient, curated list of books and activities to put on a storytime with your child, right in your own home!
December 23, 2020
The Story of Snow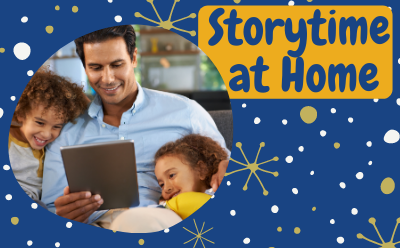 Story and a Song
January 20

November 18

November 4

October 21

October 7, 10 a.m.

Storytime Shorts
Our librarians have put together some storytime shorts for you – these are short videos of storytime activities like songs, counting games, and more! View the entire playlist on our YouTube channel.
Storytime Short: Butterfly Rhyme

Storytime Extras
Librarians share how parents' and children's activities in storytime and at home can provide both fun and learning!
Storytime Extra #2: Activity Cubes & Calm-Down Cubes

Online Storytime Extra #1: Early Literacy Tips