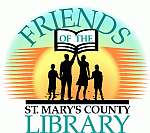 Friends of the St. Mary's County Library (FOL) is an organization of persons interested in libraries who advocate for and support the library as a group and individually. Friends of the St. Mary's County Library has raised over $594,000 and counting for St. Mary's County Library. The FOL holds an annual book sale at the St. Mary's County Fairgrounds every Spring, an annual brunch in Winter, and an annual dinner in May.
Membership
Members receive FOL newsletters and early buying privileges at the Spring Book Sale before the sale opens to the public. Membership runs January through December. If you join or renew after October 1, your membership will be through December of the following year.
Join the FOL or renew your membership
Annual Dinner 2019
The 2019 Annual Dinner will be held on Sunday, May 5 at Elements Eatery & Mixology. The guest speaker will be New York Times best-selling author Elaine Shannon, author of Hunting Leroux: The Inside Story of the DEA Takedown of a Criminal Genius and His Empire and Desperados: Latin Drug Lords, US Lawmen and the War America Cannot Win.
Doors open at 5 p.m. $35 per person for FOL members and $40 per person for non-members.
Registration for members begins March 18. Registration for non-members begins April 8.
Donations
Make a monetary donation to Friends of the St. Mary's County Library.
Donate books and other materials to Friends of the St. Mary's County Library
2018-2019 FOL Board
President: Rebecca Vanecko
Vice President: Lloyd Timberlake
Secretary: Ann Barnes
Treasurer: Bob Parkinson
Finance Chair: Vacant
Membership: Jon Baake and David McGowan
Newsletter Editor: Jill Ashenfelter
Library Representative: Laura Boonchaisri
Other Board Members:

Ellynne Davis
Sue Gibbs
David McGowan
Trish Parkinson
Lynn Williamson
We are looking for new Board members!
The Board meets roughly nine times per year at one of the library locations.
Submit an application online or print and mail a paper application to Friends of the St. Mary's County Library, P.O. Box 165, Leonardtown, MD 20650.