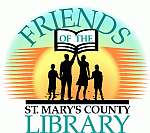 Friends of the St. Mary's County Library (FOL) is an organization of persons interested in libraries who advocate for and support the library as a group and individually. Friends of the St. Mary's County Library has raised over $644,000 and counting for St. Mary's County Library. The FOL holds an annual book sale at the St. Mary's County Fairgrounds every Spring, an annual brunch in Winter, and an annual dinner in May.
Book Sales
The FOL was unable to hold their annual Spring and Fall book sales this year, but they've recently opened an online shop where you can browse, order, and purchase items! All sales are PICK-UP ONLY behind the old Leonardtown Library at 23250 Hollywood Rd. in Leonardtown. Find all the details on their shop! Questions? Call (240-561-9828) or email (folstmarys@gmail.com) the sorting room!
Membership
Members receive FOL newsletters and early buying privileges at the Spring Book Sale before the sale opens to the public. Membership runs January through December. If you join or renew after October 1, your membership will be through December of the following year.
Join the FOL or renew your membership
Donations
Make a monetary donation to Friends of the St. Mary's County Library.
Donate books and other materials to Friends of the St. Mary's County Library
Current FOL Board
President: Rebecca Vanecko
Vice President: Lloyd Timberlake
Secretary: Ellynne Brice Davis
Treasurer: Louie Pectol
Finance Chair: Louie Pectol
Membership: Jon Baake and David McGowan
Newsletter Editor: Jill Ashenfelter
Book Sale Chair: Amy Davis
Library Representative: Laura Boonchaisri
Other Board Members:

Nancy Lewis
Trish Parkinson
Mary Rossi
We are looking for new Board members!
The Board meets roughly nine times per year at one of the library locations.
Submit an application online or print and mail a paper application to Friends of the St. Mary's County Library, P.O. Box 165, Leonardtown, MD 20650.