Help your child read 500 books by age five! Reading with your child helps to get them ready for school, increase vocabulary and speech skills, improve logical thinking, and encourage a love of learning. 500 books is just:
One book per day for two years
Weekly library storytime from birth to age five
Two bedtime books each night for one year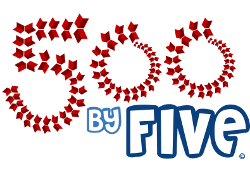 Sign Up Today!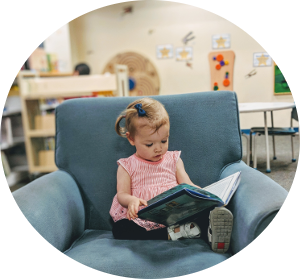 Track your child's progress online, on the app, or ask at your Library for a 500 by Five paper log.

Use Beanstack to Register and Log your Books
Download 'Beanstack Tracker' from your device's app store, or visit https://stmalib.beanstack.org. If you're using the Beanstack app, search for St. Mary's County Library.
If you have used Beanstack for summer reading or another library program, enter your username/email and password. If you do not already have an account, you'll need to create one.

After entering your information to create the account, complete the reader profile. If you are an adult registering a child, enter your information first (you can participate in our winter and summer reading programs!)
If you'd like to sign up one or more additional readers, select "Add Another Reader" and enter your child's information

For children not yet in school, select 'None (or prefer not to say)'
To log books you have read:

In the Beanstack App:

Tap the plus sign in the menu at the bottom of the screen
Choose the reader or readers
Choose your logging method. You can 'Scan Title ISBN' (barcode on the BACK of the book), 'Manual ISBN' (barcode on the BACK of the book), or 'Enter Title Info'
Deselect the 'Track Progress?' button and tap 'Save'
Select 'Quick Log as Complete'

On the Beanstack website:

Make sure you are logging for the correct reader (the name is in the top right)
Click 'Log Reading and Activities' in the upper left
Select 'Books,' then select the date and input the title and author before clicking 'Save'

Visit the library after each 100 books to earn a small prize. Visit after 500 books to earn a free book to keep and a special crown!