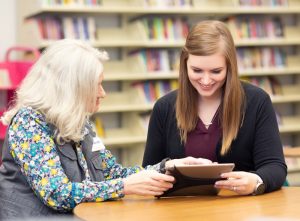 We are not scheduling one-on-one tech help appointments at this time.
Need Tech Help?
One on One Appointments
St. Mary's County Library offers computer and technology instruction in the form of one-on-one appointments with our excellent staff.
Topics for one-on-one appointments can include:
Device help
Using Library resources
Computer basics

Operating system
Using the mouse
Using the internet
Email
Microsoft
Word
PowerPoint
Excel
Publisher
Social Media
Facebook
Twitter
Instagram
Drop-In Tech Help
Leonardtown Library
Wednesdays, 6 – 7 p.m.
Charlotte Hall Library
Thursdays, 12 noon – 5 p.m.
Drop-In Tech Help is open for any and all basic technology questions! We'll do our best to assist you in a relaxed, low-stress environment.
Learn how to download eBooks and eAudiobooks to your phone or tablet or how to navigate the internet, email, and social networks. Learn how to connect devices to a network, Bluetooth, or the cloud. Using technology effectively is right at your fingertips!
Please note that we cannot offer troubleshooting or maintenance help with personal computers or mobile devices. Read our Personal Device Assistance Policy for more information.
Need help with something else? Just ask! Looking for more advanced topics? Try lynda.com, free with your library card.