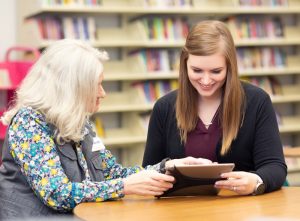 Need Tech Help?
One on One Appointments
St. Mary's County Library offers computer and technology instruction in the form of one-on-one appointments with our excellent staff. Appointments may be scheduled by submitting an appointment request form or visiting or calling your library.
Topics for one-on-one appointments can include:
Device help
Using Library resources
Computer basics

Operating system
Using the mouse
Using the internet
Email
Microsoft

Word
PowerPoint
Excel
Publisher

Social Media

Facebook
Twitter
Instagram
Please note that we cannot offer troubleshooting or maintenance help with personal computers or mobile devices. Read our Personal Device Assistance Policy for more information.
Self-Guided Technology Help
We have compiled a list of online videos and tutorials that address technology and computer skills.
The Library is a Northstar Digital Literacy site. Northstar is a free, digital literacy program to teach basic computer skills and tools to thrive online. Online, self-guided modules assess the ability of individuals to perform tasks based on these skills. Included in Northstar are basic computer digital literacy standards and modules in three main areas: Essential Computer Skills, Essential Software Skills, Using Technology in Daily Life. See more information about Northstar Digital Literacy and create your learner account.
Looking for more advanced topics? Try LinkedIn Learning, free with your library card.
Upcoming Technology Events
Intro to 3D Printing for Kids
When: Friday, December 09 - 3:00pm - 4:00pm
Where: Charlotte Hall Library in Meeting Room
Age Groups: Upper Elementary, Tween
Learn how to submit 3D print jobs to St. Mary's County Library. The workshop will cover how to set up print jobs, where to find 3D objects to print online, and resources for 3D modeling.
Upload your own design to print and pick up later. This program is for grades 4-8
Internet Basics Computer Class
When: Wednesday, December 14 - 10:00am - 11:30am
Where: Leonardtown Library in Computer Lab
Age Group: Adult
Get better acquainted with how the Internet works and how you can get it to work better for you!
Almost everything is online these days so being able to use the Internet is now an essential skill. Boost your confidence with this introductory class where we'll talk about how to perform web searches, judge if a website has legitimate information, create an online account, and fill out forms or registrations online.
Computer Basics Class
When: Tuesday, December 20 - 10:00am - 11:30am
Where: Charlotte Hall Library in Meeting Room
Age Group: Adult
Would you like to learn how to use a computer? Attend the Computer Basics Class!
Library staff will instruct you regarding how to control a computer, how to find your way around a computer, and more.
This class is intended for beginners. Registration is recommended.