St. Mary's County Library offers computer and technology instruction in the form of one-on-one appointments and scheduled group classes.
One-On-One Appointments
We offer one-hour appointments with our excellent staff. Appointments may be scheduled by visiting or calling your library.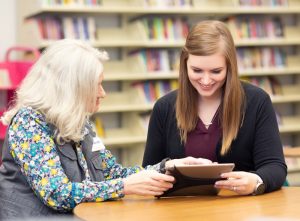 Topics for one-on-one appointments can include:
Device help
Using Library resources
Computer basics

Operating system
Using the mouse
Using the internet
Email

Microsoft

Word
PowerPoint
Excel
Publisher

Social Media

Facebook
Twitter
Instagram
Need help with something else? Just ask! Looking for more advanced topics? Try lynda.com, free with your library card.
Scheduled Classes
Explore Your Digital Library
When: Tuesday, January 15, 2019 - 2:30 PM - 4:30 PM
Where: Leonardtown Library in Leonardtown Library Meeting Room
Looking for a great read? Studying for the SAT, GMAT or ASVAB? Researching your family's ancestry? Want to learn a new language?
Are you planning on writing a research paper? Would you like to watch movies or listen to books on your phone or device? Drop by the Leonardtown Library this winter with your laptop, tablet, or mobile device and our tech team will show you how to access all kinds of FREE library resources that are right at your fingertips!
No items found.
Please note that library staff may be taking photos of any or all events to use for future library publications. Event participants' photos may be used without notification or compensation. If you do not feel comfortable having your photo taken, please inform library staff when you arrive to an event.