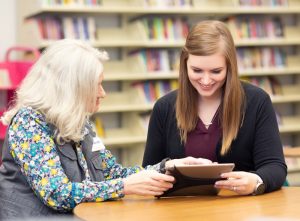 Need Tech Help?
In-Person Help
St. Mary's County Library offers computer and technology instruction in the form of scheduled class sessions and one-on-one appointments with our excellent staff. Upcoming classes are listed at the bottom of this page. Registration is recommended. One-on-one appointments may be scheduled by submitting an appointment request form or visiting or calling your library.
Topics for one-on-one appointments can include:
Device help
Using Library resources
Computer basics

Operating system
Using the mouse
Using the internet
Email
Microsoft

Word
PowerPoint
Excel
Publisher

Social Media

Facebook
Twitter
Instagram
Please note that we cannot offer troubleshooting or maintenance help with personal computers or mobile devices. Read our Personal Device Assistance Policy for more information.
Marylanders Online Call Center
Marylanders Online Call Center provides free one-on-one tech support via phone or email to all Maryland residents in an effort to bring digital equity to Maryland.
Reach the Call Center Monday through Friday, 10 a.m. – 8 p.m. and Saturday, 10 a.m. – 5 p.m. at 301-405-9810, or toll free at 1-866-206-8467. Email them at marylandersonline@umd.edu.
The Call Center provides:
Tech support in English and Spanish
Any device support including hardware and software
Assistance in getting connected with internet
ACP application assistance
Connect to local organizations offering various digital skills classes, device program, and much more
Self-Guided Technology Help
We have compiled a list of online videos and tutorials that address technology and computer skills.
The Library is a Northstar Digital Literacy site. Northstar is a free, digital literacy program to teach basic computer skills and tools to thrive online. Online, self-guided modules assess the ability of individuals to perform tasks based on these skills. Included in Northstar are basic computer digital literacy standards and modules in three main areas: Essential Computer Skills, Essential Software Skills, Using Technology in Daily Life. See more information about Northstar Digital Literacy and create your learner account.
Looking for more advanced topics? Try LinkedIn Learning, free with your library card.
Upcoming Technology Events