St. Mary's County Library believes in the importance of serving ALL members of our community. We recognize and celebrate the differences in background, abilities, experiences, characteristics, identity, and thought that make each person unique and that enrich our community. At the same time, we acknowledge that which unites us: our basic humanity and lifelong learning. We strive to provide friendly customer service, a safe and welcoming environment, and a wide variety of library materials, services and programs that promote diversity, respect, inclusion, and understanding.


St. Mary's County Library supports the Maryland Library Association in its statement against racism and pledges to support equity, diversity, and inclusion in all our work.

Begin or continue your anti-racism journey with some of these suggested titles and resources found at St. Mary's County Library.
Physical Materials for Checkout
Digital Materials for Checkout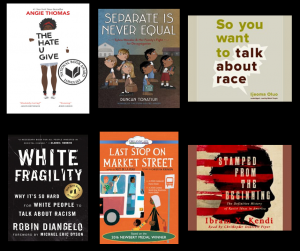 Maryland Library Association Statement Against Racism
The Executive Board of the Maryland Library Association joins the Black Caucus of the American Library Association, as well as the many voices in our communities, in condemning recent and historic acts of systemic racism and injustice. Many of us became library workers out of a passion for equity, inclusion, and diversity and a real desire to advance these values in our communities. We are all experiencing the impacts of the murders of George Floyd, Ahmed Aubrey, Breonna Taylor, Tony McDade, and countless other black lives differently. We also are all experiencing the responses of our nation's leaders, as well as the organizations we support or represent, differently.
But we are not neutral or ambivalent in our response to these unconscionable events. Systemic racism not only undermines our values, it destroys lives and communities. We are united in our belief that Black Lives Matter. We stand with people of color in our communities and in the library profession. We stand with the victims of marginalization and oppression. We call on our members to stand with us in radically opposing all forms of racial oppression, violence, and injustice. Furthermore, we commit to intensifying our work to resolve long-standing equity and opportunity gaps within the library profession.
Statement without action accomplishes nothing. In the days to come, the leadership of the Maryland Library Association will actively engage with our membership to listen, learn, and lead, and above all, to prioritize the Association's role in working to advance justice and reconciliation in our communities.
Statement of the Maryland Attorney General Regarding the Rise in Violence Against Asian Americans
March 17, 2021, Baltimore, MD – As details continue to unfold, one thing is clear: the tragic shootings in Atlanta are appalling and frightening. We condemn the senseless gun violence that took the lives of these innocent victims and pray for their families and loved ones. While it has not been confirmed as an instance of race-based violence, we must not be silent about the alarming trend of attacks on Asian-Americans. Race-based hate should not be tolerated anywhere, and will not be tolerated here in Maryland. For anyone who has suffered or witnessed anti-Asian, race or ethnic related threats, violence, harassment, or other incidents, report it to the police.
Race-based aggression and violence is un-American and against the law. We can only stop it by taking a stand against it.