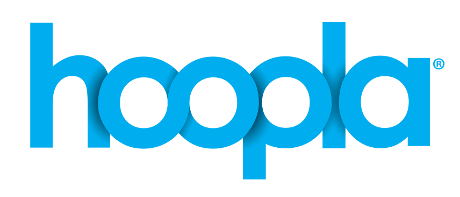 hoopla digital
offers thousands of movies, television shows, music albums, eBooks, comics, and audiobooks for borrowing. Instantly stream or temporarily download (on a mobile device using the hoopla app) up to 5 titles every month for free with your St. Mary's County Library card.

See hoopla digital's Privacy Policy
Important Information:
The hoopla digital app is available in the App Store, Google Play, and the Amazon Appstore. See hoopla support for more information about specific supported devices.
Children with library cards in good standing may use Hoopla. Be advised that our Hoopla collection contains material that some parents might not find suitable for their children. Films and television shows are labeled by MPAA and TV ratings when they have been rated. In accordance with our Materials Selection Policy, responsibility for the reading, viewing, and listening of children and adolescents rests with their parents or legal guardians. Thus, children and teens who use Hoopla are not restricted to certain content. Parents and guardians are responsible for guiding their children's use of this and other library resources.

Hoopla for Kids: When Kids Mode is turned on in your settings, content displayed is limited to materials for children. You can turn on Kids Mode in your settings on hoopladigital.com or in the settings menu in the app. Note: the setting is for the device, not the account. Turning Kids Mode on on your Android phone will not turn Kids Mode on on your iPad.

Checkout movies and TV shows for 3 days, music for 7 days, and eBooks, comics, and audiobooks for 21 days.