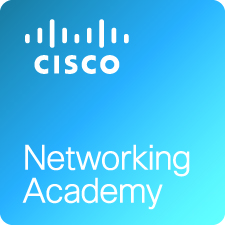 Cisco Networking Academy is an IT skills and career building program for learning institutions and individuals worldwide. Curricula is offered to build the foundational and problem solving skills needed for careers in Digital Literacy, Business, Operating Systems (OS), General IT, Networking, Security, the Internet of Things (IoT), and Programming. Networking Academy offers a comprehensive learning experience that includes online curriculum, assessments, case studies, games, and simulations that are all delivered through the NetAcad.com cloud-based learning and collaboration platform.
Global digitization and the Internet of Things (IoT) is generating unparalleled demand for skilled workers and opportunities for creative, tech-savvy people everywhere. The Cisco Networking Academy is dedicated to harnessing the power of technology to launch a generation of global problem solvers who innovate like technologists, think like entrepreneurs, and act as social change agents.
What You Need
A computer and an internet connection
An up-to-date browser (Google Chrome is recommended)
An account at Skills for All, by Cisco Networking Academy. This account is created when you enroll for your first course. You will need to provide some personal information. Please refer to their Privacy Statement for more information.
How to Enroll
Click on the link of the course you would like to take from the list above, then click Get Started.
If you are a returning student, you can sign into your NetAcad account and your email address will be pre-populated on the course enrollment page.
New students will receive an email with the account activation link from Networking Academy Team (noreply@netacad.com) with the subject line "Get Started with Cisco Networking Academy". Be sure to check your junk mail or spam folders. You will need to provide some personal information to create an account.
You will receive an email confirmation from the email address noreply@cisco.com confirming that you have successfully created an account.
Log into your NetAcad account and the course should be on your landing page.
Frequently Asked Questions
I don't know anything about computers or the internet. Can I take these courses?
There are no prerequisites to these courses but learners are expected to have good understanding of computers and the internet.
How many courses can I take?
There is no limit to the number of courses you can take, and you can take a course as many times as you need in order to complete it.
How do the courses work?
Courses consist of content modules, assessments (e.g. quizzes) and an end of course feedback form. Some courses include hands-on assignments and lab exercises. If you have a question during a class, you can post your question to the Discussions forum. Be sure to check back on that page as dedicated library staff or one of your fellow students will respond. You can continue accessing all course materials but you cannot submit assignments, quizzes or exams ​after the course ends.
How do I get started on a course?
You will see a button to launch course module after you enroll in the course. You can also log on to your account and start the course by clicking on the course title under the I'm Learning tab.
Can I drop a course part way through?
You can contact virtualservices@stmalib.org if you wish to drop a course that is in progress. You will no longer be able to access the class again unless you enroll in a future session.
Can I use a library computer?
Course modules can be accessed on a library computer. Some courses, such as Introduction to Cybersecurity and Introduction to IoT, have lab sessions that involve installing additional applications and cannot be completed on a library computer.